Spanish course in Santiago de Chile
A Spanish course in Santiago, the capital of Chile, will introduce you to a truly global city and one of the most important and modern metropolitan areas in Latin America. Situated inland from the Pacific Ocean, with the mighty Andes as a dramatic backdrop, Santiago is an excellent base from which to experience Chile's rich and varied culture and geography.
A mild Mediterranean climate, impressive high-rise architecture and dozens of shopping malls make Santiago de Chile a cosmopolitan, safe and exciting place in which to learn Spanish. Studying at our school allows you to be close to both the breathtaking ski slopes to the east, and the picturesque Pacific beaches to the west.
Explore more of Chile with weekend excursions to the beach resort of Viña del Mar, stunning Valparaiso, Chile's main port, or the local vineyards where you can sample some delicious Chilean wines. For the more adventurous, there are the ski resorts of El Colorado, La Parva and Lagunilles, whitewater rafting excursions, plus opportunities for traditional cooking and Salsa lessons, which take place near our school.
Spanish school in Santiago de Chile
Our Spanish school in Santiago, Coined, is located in a lovely building very close to the commercial centre and many monuments and landmarks. It has all the facilities you need to make the most of your studies including spacious classrooms, audio/video room, student room and a small kitchen for students to make coffee/Tea and snacks.
There is free WIFI connection for students, and at break time, students like to take advantage of the terrace and balconies, which is also the ideal place to meet your new friends after Spanish lessons.
Spanish courses in Santiago de Chile
At our Santiago school, you can choose group lessons, individual classes or a combination of both. The Standard Spanish course in Santiago consists of 25 lessons per week, placing you with students of a similar level to yourself.
The Super-Intensive course provides 37 group lessons per week which are great for reinforcing the Spanish learnt and helping you to progress at a faster rate. Alternatively, you can have 10 Private Lessons per week for complete individual attention.

Intermediate or advanced students can focus their language skills with a Business Spanish program, and our school in Santiago can also help you prepare for the DELE exam; an internationally recognised certification.

Spanish and Skiing and Spanish and Salsa are available to students of all levels. The Skiing programme consists of the Standard course plus two days of skiing each week. This Includes two lift passes (one during the week & another at the weekend) and transportation to the mountains.

If you have any questions regarding any of these Spanish courses, please do not hesitate to contact us.
Accommodation in Santiago de Chile
To make your Spanish immersion program complete, you may wish to stay with one of our school's carefully selected host families – experience the local way of life at first hand.
Alternatively, you can share a self-catering apartment with fellow students, either in a private or shared room. This option gives you a greater degree of independence and you'll quickly make lots of new friends from the school! Private apartments are also available for up to 3 people upon request.
Host family

Host family accommodation also maximises your opportunity to practice Spanish. Hosts will encourage you to speak and make you feel confident in using the language. All our families are carefully selected and vetted, ensuring that you have both a comfortable and engaging local stay.

Host family

single • breakfast • half-board

Host family

twin (2 separate beds) • breakfast • half-board
Arrival in Santiago de Chile
If you fly to Santiago de Chile Airport, transfers are available at an extra cost. If you'd prefer to arrange your own transport to your accommodation, there are relatively cheap and frequent buses and taxis at the airport.
Cultural activities in Santiago de Chile
Welcome tour
Wine tasting, vineyard trips
Spanish-language movie nights
Salsa lessons
Excursions to local beaches
Local bar and restaurant evenings
Trips to see football matches
Skiing, snowboarding and whitewater rafting
(Precise cultural program may vary)
Special Offers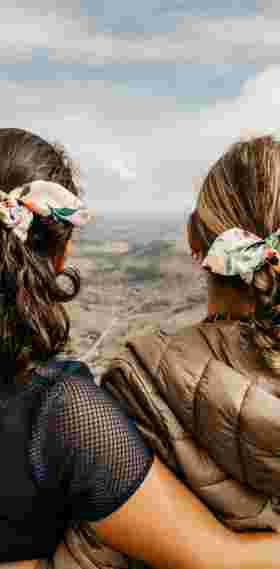 €20 Euro discount
Book with a friend and save
Book a course with a friend or relative and SAVE €20 each. You just need to quote code EHBF09 in our enrolment system in the "general notes" field. Contact us for more details.
Conditions:
This offer is only valid when choosing the same location.
Why choose Estudio Hispanico?
Free service

Free support, free cancellation and free insurance included.

Best price guarantee

Get the price difference refunded if you find a better deal for the same programme with another agency.

THE Spanish language school experts

Since 2001 we have been dedicated to picking only the best Spanish language schools in Spain and Latin America.
Accreditations and memberships