Learn Spanish in Tenerife
Welcome to Tenerife – an island of mesmerising scenery, gorgeous beaches and energetic nightlife. The largest of the Canary Islands, Tenerife is dominated by the volcanic Mount Teide, with its incredible landscapes reminiscent of Mars. Your Spanish course in Tenerife will take place in Puerto de la Cruz, where the northern slopes of Teide meet the sea.
Taking advantage of the beautifully clear waters here, our school offers Spanish and Scuba Diving, Surfing or Paragliding courses.
The school enjoys an amazing location, in a quiet, residential area called 'La Paz', opposite the historic Botanical gardens and just 15 minutes' from the town centre. Puerto de la Cruz is also home to Loro Parque, an impressive collection of exotic animals, including killer whales, dolphins, penguins, tigers, gorillas and chimpanzees! For a glimpse of the traditional Tenerife, visit the nearby town of La Orotava, where you'll find beautiful architecture and delicious wines.
Spanish school in Tenerife
As well as ten bright, well-equipped classrooms, our school FU Tenerife, has three computers with Internet access, a lecture hall that seats up to 60 people, a coffee bar and a fantastic sun terrace where you can relax and socialise with classmates.
Spanish courses in Tenerife
You can choose from 20 or 30 group lessons per week on the 'Standard' or 'Intensive' course, depending on how much leisure time you would like.
However, if you would prefer more personalised attention, Private Spanish Lessons may be the best option for you. Classes will be completely tailored to suit your needs, so you're sure to learn quickly.
You can even complement your Spanish language course with scuba diving, surfing and paragliding lessons, allowing you to really make the most of this wonderful location.
Accommodation in Tenerife
Host family accommodation ensures you a warm welcome to the Canary Islands, an insight into the local way of life and constant Spanish practice! Our school only selects friendly families with a good standard of accommodation. Choose one, two or three meals per day, depending upon your preference.

Alternatively, you can live with your fellow students in a shared apartment whilst you learn Spanish in Tenerife. This is a great way to meet and socialise with classmates.
Shared apartment

These shared apartments provide fully-fitted kitchen, common rooms and bathrooms to share with an average of 2 – 4 students. Single and double rooms are available.

Shared apartment

single • self-catering

Shared apartment

twin (2 separate beds) • self-catering

Host family

Host family accommodation also maximises your opportunity to practice Spanish. Hosts will encourage you to speak and make you feel confident in using the language. All our families are carefully selected and vetted, ensuring that you have both a comfortable and engaging local stay.

Host family

single • breakfast • half-board
Arrival in Tenerife
Our school can arrange transfers from either Tenerife North Airport or Tenerife South Airport. Please be aware, however, that this service costs extra.
Cultural activities in Tenerife
Cultural activities in Tenerife*
Welcome breakfast on the sun terrace
Visits to the Botanic gardens in La Paz
Surf lessons
Flamenco lessons
Salsa lessons
Spanish culture talks
Beach volleyball
Excursions to other places of interest in Tenerife
(Precise cultural program may vary)
Special Offers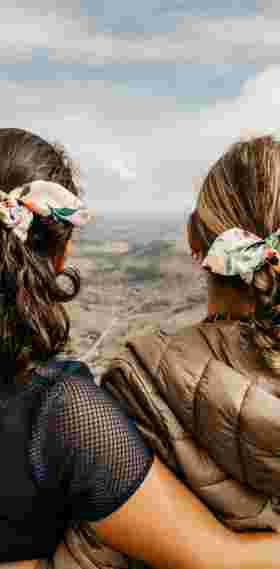 €20 Euro discount
Book with a friend and save
Book a course with a friend or relative and SAVE €20 each. You just need to quote code EHBF09 in our enrolment system in the "general notes" field. Contact us for more details.
Conditions:
This offer is only valid when choosing the same location.
Why choose Estudio Hispanico?
Free service

Free support, free cancellation and free insurance included.

Best price guarantee

Get the price difference refunded if you find a better deal for the same programme with another agency.

THE Spanish language school experts

Since 2001 we have been dedicated to picking only the best Spanish language schools in Spain and Latin America.
Accreditations and memberships