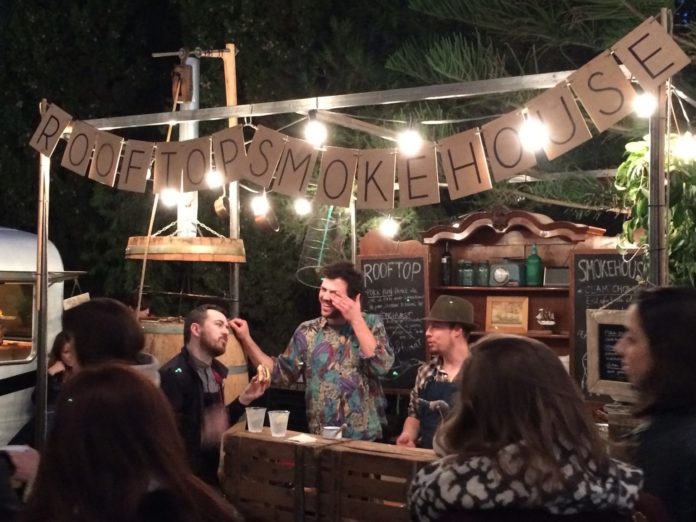 If you want to go shopping or for a snack in Barcelona of course you can just take a stroll
down the Ramblas, Passeig de Gracia or go to one of the huge shopping centres all over town. But there are a few hidden treasures that you will only get to see if you visit one of Barcelona's amazing Markets.
First of all you need to know that there are different types of markets Barcelona has to offer, every district has their own food markets, besides them, there are street food markets and various vintage markets or design fairs.
One of the most famous markets for sure in Barcelona is "La Boqueria", located just in the
heart of the Ramblas. Once you enter you are overwhelmed by so many smells, colours and sights, it's unbelievable. You can buy fresh fruit and vegetables, amazing fresh meat and fish, spices etc. and you can also find food stalls that sell lunch.
Apart from "La Boqueria" every district has its own food market which all have their own treasures, just like the Mercat de Santa Caterina which is famous for its colourful roof, or the Mercat de la Concepcion for example, that sells a huge number of fresh flowers and plants
like lemon trees, 24 hours a day, the whole week through.
On the other hand Barcelona has amazing street food markets once in a while. Lots of food
trucks with simply delicious dishes and drinks at a low cost. Most of the time there is some music as well and the markets turn into a place to hang out and have a good time.
These are definitely some of my favourite places to be. Great food, some drinks, music and friends .. you better not miss it!
For example there is the Van Van Market with various Food vans from all over the world, the Eat Street market, a whole street of food stalls and live music or for example the Palo Alto market, that takes place on a regular basis.
Palo Alto is one of my favourites. The market is set up every first weekend of the month
with a special theme, like Asian cuisine.  It's located in the area of 'Poblenou', right in the centre of a residential area on the grounds of an old factory surrounded by trees. You enter and forget where you were before, it's like a small oasis.
On one side you have food trucks and stalls where you can grab a snack or a drink and enjoy yourself while listening and dancing to the music in the Dj area or the jazz club and on the other side you can just wander through the small design or fashion galleries or even participate in a workshop. The best combination you can get!
Apart from all the food markets you can explore when your stomach starts to growl,
Barcelona has its nice flea and vintage markets all over town. So if you also believe in the term "One man's trash is another man's treasure" then you should definitely find out more about these places:
If you are looking for a surprising and entertaining place to buy unusual vintage and second hand stuff, the "Encants vells" or 'Fira de Bellcaire'  is a good place to go. This market is located in the plaça de les Glories, an area which is being renovated, in Barcelona.
This is one of the oldest markets in Europe which for centuries has been the commercial heart of Barcelona. Over 15 000m2, visitors can discover all the unique items sold by over 500 traders and professionals under the mirror-like roof. Go and take a look during the opening hours on Monday, Wednesday, Friday and Saturday from 9:00am to 10:00pm.
If you are a book-worm, the book and comic market of Sant Antoni is for you. Comics, novels, magazines, also posters, all best sellers and less known items are there. All collectors and enthusiasts of unique pieces will love to discover this market on Sunday mornings from 8:30am to 2:30pm.
Mercat de la Concepcio mentioned above is the flower market of Barcelona which is open
24 hours a day. This market is located in the centre of Barcelona, in the Eixample district and covers an area of 4 010m2.
You can also find fresh product like fruits, fish, cheese… a great place to delight your senses! An absolute must-see on Monday and Saturday from 8:00 to 15:00 and Tuesday to Friday from 8:00 to 20:00, in a very nice neighborhood atmosphere for those who want to avoid the crowds of the Boqueria.
The flea market 'Flea Market' is a perfect place to find treasures such as books, albums, clothing, fashion accessories … Every second Sunday of the month it is installed in the plaza Blanquerna street, Portal de Santa Madrona, right behind the Maritime Museum, so you can soak up some culture at the same time!!
If you are looking for a very original market, there is the 'Demanoenmano' which is a social market. This traveling market is held monthly in different locations in Barcelona.
It has two parts, the first is dedicated to recycling, second-hand and vintage items, and the second to the new creations of artists and artisans from all areas (designers, painters, photographers, sculptors, illustrators …) it also offers the presentation and promotion of activities, organizations, services, or any initiative that wants to be known. It is a public and free admission event.
So why not discover even more of what Barcelona has to offer!!  – It´s a great chance to escape the heat and to have a walk around one of these many markets in!