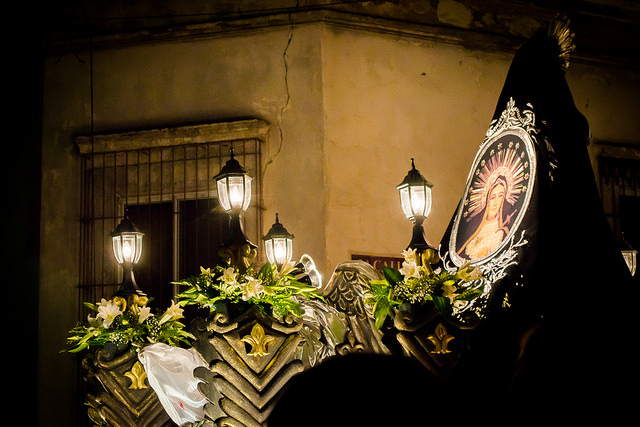 The Holy week – Semana Santa – is one of the most important religious events in Spain.
Just before Easter, from Palm Sunday, the holy week is celebrated in all areas and towns of Spain. It´s a mix of a traditional, cultural, musical and theatrical spectacle.
Each city has its own way of celebrating the Holy week, that makes the event so special.
Day and night streets become alive with colorful flowers, spectacular religious sculptures and the rhythm of the drums.
Let´s have a look at the various ways of celebrating it in different                                         cities:
♦ In Cuenca some concerts are played; you can listen to Religious Music taking place in historic buildings such as the cathedral.
♦  In Salamanca , the impressive monuments become part of the celebration in the historic centre
♦  In Cartagena, after the procession the crowd sing the song of the "Salve Maria".
♦  The celebration the most famous and impressive is in Seville. There are up to 7 daily processions organized by over 50 "hermandades" – fraternities.
The parades usually have 2 or 3 "pasos" – commemorative altars on which are arranged wooden statues depicting religious scenes, carried on the shoulder by a group of "costaleros" – person who carries the figures on the shoulders – and escorted by dozens of Nazarene – person who follows Jesus to Nazareth.
The atmosphere can seem quite somber but it´s a really special event and for some people can be quite unforgettable.