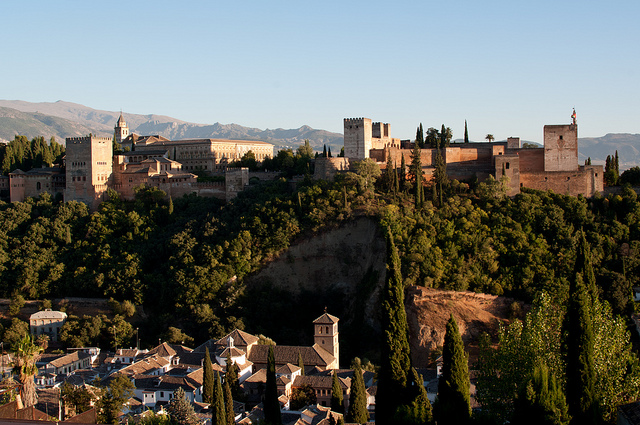 Alhambra – no words needed! You will have heard that one before.
'El Mirádor de San Nicolas': this place offers stunning views over the city and across the Alhambra. On sunny days always filled with people, chilled out atmosphere with locals and tourists!
Enjoy an ice cold "Alhambra" cerveza to cool off from the heat, while listening to the busker beside you, strumming his Flamenco guitar with fiery passion, this will get your feet tapping! Days like this confirm that life is good!
Tapas – Granada is different! Nowhere else will you find tapas served the way it is in Granada. Bars offer a variety of tapas free of charge – a different tapas with each new drink; from mouth-watering 'queso', to delicious 'bravas', soft mini-hamburgers to fresh, crunchy calamari.
While having a few drinks, your belly is getting fuller by the minute. No dinner needed.  Be sure you don´t judge a book by its cover. Some bars look plain and old from the outside, yet inside happy, cheerful locals await you- not to forget the many tapas to nibble on.
'Las cuevas de Sacromonte': the caves are truly impressive, they are used for housing and also used as little bars, you will also find a museum and a big disco nestled in between.
You can end up lost in the middle of the street, then come across a tiny Flamenco bar and end up having the time of your life, being transferred into a different world.
The locals dance and play the instruments with such passion and emotion that you don't get to experience on a day to day basis.
"TRANQUILO!"- people don´t rush here, neither on the street nor in the supermarket queue. Slow life is good life. It's such a massive change to big cities where all can be rushed and stressful. Siesta time in the afternoon is big here. While waiting for the shops to open you can sit on a terrace in one of the many old traditional bars, sip on a 'tinto de verano' and watch the (slow) world go by. And breathe!
Granada offers so much! When you first arrive you will fall in love with the city immediately- the people, the way of life, the culture, the food, the architecture, the history, the music, one could go on and on. It´s not a coincidence that Granada is called "el Corazon de España" – the heart of Spain!
If you want to experience Granada for yourself then check out our latest Special offer!!!