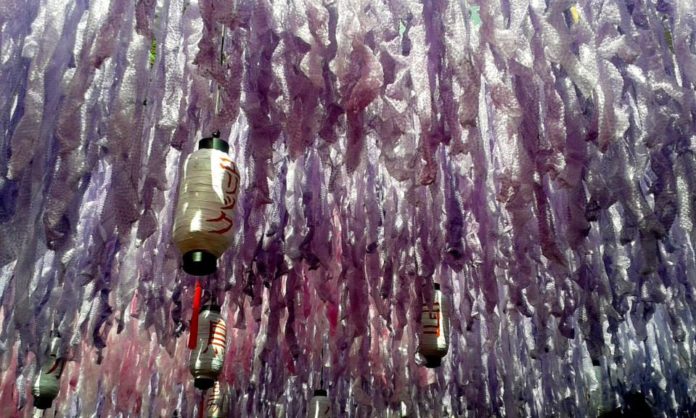 30 degrees in the shade, no wind. Sunday afternoon in the streets of Gracia. Every now and
again a nasal laughter pierces the air along with a drilling sound. I walk in the direction of this intriguing scene. Carrer de Perill: dozens of tables put together, a delicious paella smell, people of all ages frantically assembling unimaginable objects. Clearly, these people aren't here to joke around. A stunning old lady sits peacefully, knitting what seems to be the wing of an angel. I walk towards her, puzzled. Without looking at me, she mumbles: our street never won the competition but at least, I got to know my neighbours.  The fiestas de Gracia will kick off in less than a week, the neighbourhood is holding its breath.
From Saturday August 15th until August 21st, thousands of people will be heading towards Gracia to take part in the biggest neighbourhood festival in Barcelona: the Festa Major de Gracia. Twenty streets throughout the barrio will compete to win the coveted prize of 'Best Decorated Street'.  Walking through the area, you will find streets transformed in greatdetails with extremely elaborate fashions according to the yearly theme chosen by the neighbours.  Besides, over 600 events will come alive including, concerts, exhibitions, free workshops and activities for everyone to enjoy.
Strolling through the neighbourhood, you will travel from one universe to the other, eyes filled with sparkles, feeling like a child again. Far beyond the fierce competition lie hard working dreamers driven by the passion of creating spaces where both adults and children can let their imagination flow.
Behind the breathtaking decorations hide months of volunteering work, an infinite sense of the community and endless imagination.  Yes this is the real 'grace' of these fiestas. People devoting their free time to make others dream.