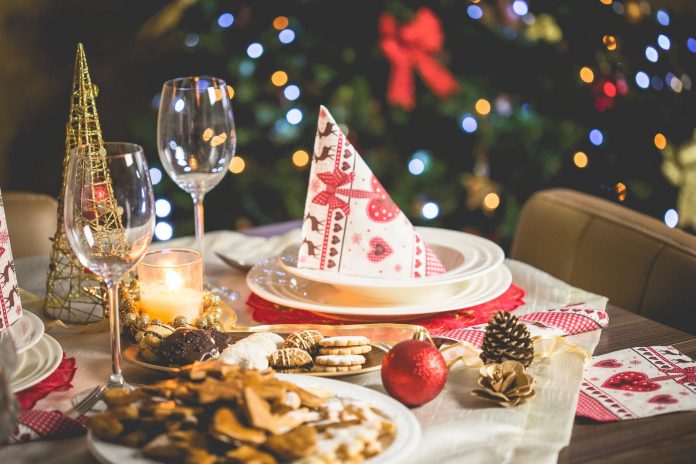 Christmas is coming!! The best period to spend time with friends and family around a good meal. In Spain or in Latin America, the family gathers around the table with various dishes in abundance, desserts and local drinks. Even if in Latin America where Christmas occurs during the summer, they also eat a heavy meal!
Main course:
– Seafood plays a big part in a Spanish Christmas meal, and is often served as the main course instead of the traditional turkey. Lobster and prawns are particularly popular, or seafood soup as a starter.
– Roast pork or lamb: Cochinillo (Spain) or Lechón (Latin America), a roast suckling pig, is another favourite Christmas meal in many parts of Spain, particularly around the region of Castilla y León, but also in many countries of Latin America. It is cooked until the skin is brown and crispy, and is often cooked with of onions and potatoes.
Each region also has typical meals:
– The Catalans eat "escudella de Nadal" (soup of galets), a popular Christmas dish in this region. Galets are huge pasta shells, which are usually stuffed with mincemeat and eaten floating around in a meaty soup.
– Vitel tone: Vitel Toné is one of Argentina's most beloved Christmas dishes, which is originally hailing from Italy. It's made of peceto (veal), topped with a sauce of tuna, mayonnaise and anchovies. It can seem weird and not to everyone's taste..but it tastes better than it sounds!
Dessert/Sweets:
– Turrón is the most typical sweet to eat at Christmas time in Spain. A type of nougat, typically made from almonds. These days, you can find all different kinds of turrón for sale, from those made with peanuts to bars filled with candied fruit.
– Pannettone is a fruitcake, originally from Italy which has become an integral part of Christmas all over Latin America.
– Mantecado: it is a typical sweet of Spanish pastry, characterized by being kneaded with lard and consumed at any time of the year, but especially at Christmas.
Drinks:
– Cava: No Spanish Christmas meal would be complete without a glass of Cava, the Spanish version of French Champagne. The best Cava can be found in the region of Catalonia.
– Coquito: Coquito is a typical Christmas liquor in Puerto Rico. Its basic ingredients are coconut cream, white rum, evaporated milk, condensed milk, cinnamon and vanilla. Although it is possible to find recipes with other ingredients such as brandy and egg.
– Ponche: A Fruit punch is traditional in Mexico during Christmas. It is prepared with apple, sugar cane, tamarind, guava, prunes and tejocotes.
There are many options for you to discover the Spanish and Latin American specialties during Christmas!!
What is the typical Christmas food in your country?