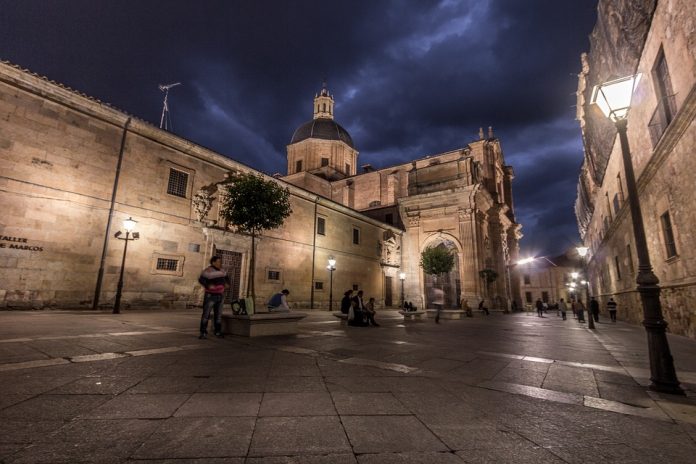 We offer Spanish courses in a huge variety of different locations, whether you prefer the bright lights of the big city, days at the beach or being immersed in history, there really is something for you!
Here we're focusing on some of our smaller and perhaps less known destinations. If you like the idea of a more relaxed pace, studying Spanish somewhere you can really get to know you might like to try one of these:
Vejer de la Frontera
Located in Andalusia, Vejer has that unmistakable 'Spanish' look – white stone buildings set up high in the Andalusian hills and bathed in Sunshine – sounds good right?
It's your typical 'Pueblo Blanco' – White village, but doesn't experience nearly as much tourism as some of the more well-known destinations; Mijas, Frigiliana etc.
The combination of incredible views over the Andalusian countryside, the charming cobbled streets and shady plazas as well as its proximity to the beach (around 8 km) make this a great location to learn Spanish and indeed a great base from which to discover Spain's largest region.
Our school in Vejer has 8 classrooms, library, internet café and a rooftop terrace to enjoy the view and soak up the sun. In addition to general Spanish courses we also offer the chance to combine your studies with Yoga, Golf, Horse-riding, Surfing and Flamenco dance lessons!
Salamanca
According to many this is where the purest form of Spanish is spoken in Spain, and it's also where the oldest University in Spain is located. Indeed this location attracts local and international students and has a young, vibrant atmosphere. This is combined with some stunning architecture and many monuments for any history fan to discover!
Plaza Mayor is at the heart of Salamanca and is an impressive place to meet up and enjoy some very cheap and tasty tapas – and Calle Van Dyck is full of restaurants and bars where you can enjoy some tasty treats.
Salamanca is located around 2 hours from Madrid so perfect for a weekend away in the capital and because of its' proximity to the Portuguese border you could even take a trip to Lisbon!
The school is just 2 minutes from Plaza Mayor and all accommodation is just a short walk from the school. The school has 7 classrooms a study library and internet access. Students can choose literature and culture to combine with their general Spanish course.
Tarifa
Back down to Andalusia and further south we find Tarifa. From Tarifa you can see Morocco on a clear day and out across the straits of Gibraltar. The town itself is located on the Costa de la Luz with year-round sun and breathtaking natural beauty.
Tarifa is definitely well-known amongst the wind surf and kite surf communities but doesn't experience mass tourism like some other beach destinations. And it's not just about the stunning golden sandy beaches, Tarifa offers you a proper Spanish experience with its' charming old town, the plaza de Santa Maria and Plaza de la Ranita, and the delicious tapas bars.
There is so much to do in Tarifa apart from watersports; you can take a day trip to Africa, go horse-riding, Go hiking in one of Tarifa's two national parks, visit the Roman ruins of 'Baeolo Claudia' and if you're in Tarifa in September, experience the week long Feria where the locals stop everything to take to the streets and celebrate, with live music, dancing, eating and drinking.
The school is 2 minutes from the beach and all classrooms are air-conditioned (definitely important in summer!). The school is small and has a family atmosphere where it's really easy to get to know the staff and students.
Tarifa is an undiscovered gem not to be missed!!