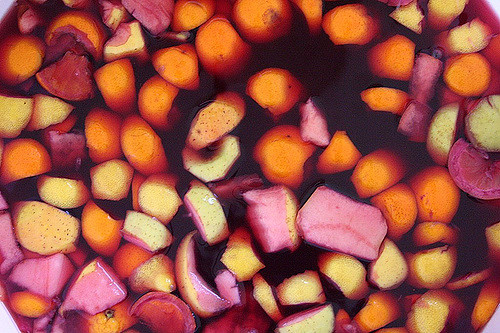 The summer sun has arrived and the heat is already here. So, what better way to refresh with some special Spanish drinks?
Let´s have a look at typical drinks to enjoy the summer.
Sangria – Who doesn't remember the sangria from their summer vacations?
It is a drink normally made of red wine, in which seasonal fruits (apples, pineapples, mangoes, pears …) or particularly citrus fruits (oranges, lemons, clementines and nectarines) are macerated. Spices and liquor such as port, cognac or brandy are also added. Some even add sparkling water.
If you would like a little bit of Spain at home (even if you don't have the sunshine), you can find below the sangria recipe:
Ingredients
3 liters of red wine
… or substitute the red wine with white wine for sangría blanca (white sangría)
1 litre of lemonade
2 peaches
1 apple
2 oranges
1 lemon
1 chunk of cinnamon
Sugar
Instructions
Wash all of the fruit and cut it into chunks. Now add the wine. After letting it all soak together so that the wine absorbs the fruity flavors, add the lemonade, sugar, and cinnamon (at this point you can also add other liquors if you so desire). Mix everything together, cool it, and then serve it even colder with ice cubes and fruit chunks.
Beers – What better than a natural refreshing beer or with lemon? Spanish beer – or cerveza – certainly pulls its own weight. Beer or "cañas" (small glass of beer) but also long drinks (soda alcohol mixture) and wine are definitely the most popular drinks.
Wine – For the most classic, there is wine. Spain is famous for its wines: there are several denominations of origin and wine-producing regions. Spanish wines are among the most famous in the world. A major advantage of Spain is that the variety of regions and climates allow the production of wines with very different Specifications.*a way to make your red wine more refreshing for summer is to make a 'Tinto de Verano'.
Tinto de Verano mixes Spain's famous red wines (although it is best to choose some of the cheaper ones) with 'Gaseosa' – a type of fizzy water, or you can mix it with Fanta lemon or schwepps.
As you can see, there are lots of options for quenching your thirst during these hot summer days!! Keep an eye out for some of our tasty Summer food recipes!