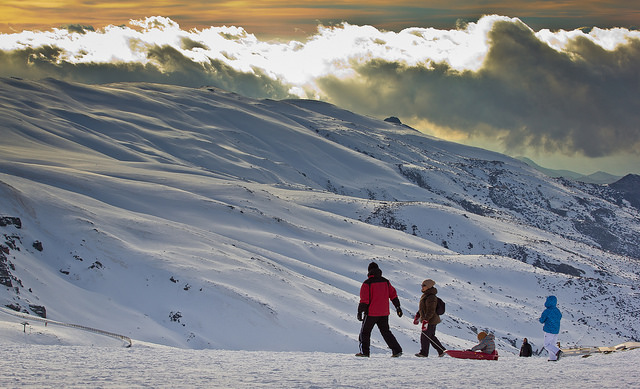 For all the ski and snowboard fans amongst us, have you ever considered following a Spanish course in Spain and skiing at the weekends?
Spain is, believe it or not, a great place for skiing, with resorts all along the border with France, whilst for the sheer novelty of skiing in the south of Spain and being able to go to the beach on the same day, the Sierra Nevada is spectacular!
If you are following a Spanish course in Barcelona then I would definitely recommend a visit to the local pistes! There are around 13 excellent ski resorts close to Barcelona in the Pyrenees. Most of them are well within driving distance of Barcelona (around 2 to 3 hours) and if you don't have a car, then you can go by train or bus. If you are travelling by car remember to bring snow chains.
Here are the most popular areas:
With 11 slopes and 4 lifts, Vall De Nuria is ideal for a day trip. If you want to get there by train there are RENFE packages from Barcelona Sants to Ribes de Freser, then rack rail (cremallera) to Vall de Nuria.
La Molina is divided into 4 different ski areas, there are a total of 42 ski slopes and 16 lifts. If you want to get there by train there are RENFE packages from Barcelona Sants to La Molina, then connecting bus to the La Molina slopes.
Grandvalira, is the biggest and most legendary resort in Andorra! It is slightly further away, but with 193km of ski slopes of all levels and plenty of good boarding runs, it is well worth making a weekend out of it! It might be easiest to rent a car if you decide to go to Grandvalira, especially if you decide to stay for the weekend. The Nearest train station is La Rabasseas.
If you decide to follow a Spanish course in Granada than you are only 32 km from Europe's most southern ski resort – 'La Sierra Nevada'. These slopes are perhaps less well known, but in 1996 they hosted the World Alpine Ski Championships. Another fun fact is that Andalusia has a very high proportion of sunny days even in the winter, and usually it is possible to ski with beautiful blue skies and warm temperatures. It is possible to ski in the morning and sunbathe at the beach in the afternoon on the same day! In total there are 79 pistes in different parts of the resort.
It is very easy to get to Sierra Nevada – buses go from Granada to the ski resort and back throughout the day. The cost for a single bus ticket is around €5 and it will take you approximately 45 minutes.