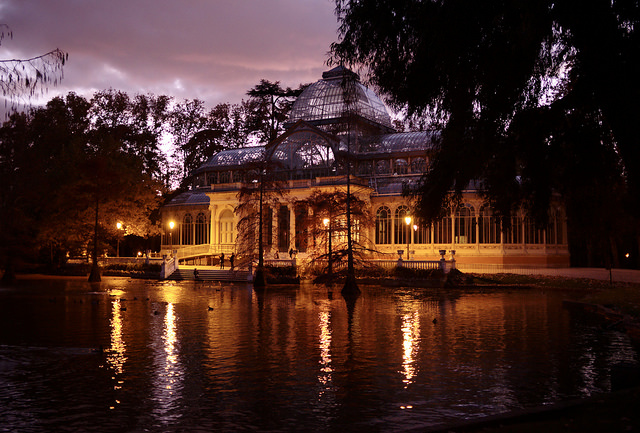 My visit to Madrid was for just 3 days but even in this short period of time I was able to see so many beauties of this city.
After the first day in Madrid I discovered that this city boasts more than just amazing architecture and historical monuments which take you back in time; there are also some magnificent green areas that Madrid is famous for.
It is unbelievable how huge the parks are in Madrid! In some of them you can completely lose yourself they're so big!
One of the most famous parks in Madrid is 'el Parque del Retiro', which is actually located just a few minutes from our school, right in the centre of the city.
Here, you have the opportunity to rent a little rowboat and enjoy some quiet time floating out in the middle of the lake. It is just amazing!  You can also organise a nice picnic with your friends or just relax in the shade of the trees.
'Casa de Campo' is another park which I advise you to visit while you are in Madrid. You can reach this park by taking the funicular from Paseo del Pintor Rosales.
The park is so big that it also contains the zoo, an amusement park and the lake with lots of "chiringuitos" (small bars) and restaurants around the lake where you can try the best freshly made paella and other traditional Spanish food. In el Casa de Campo as well as in el Parque del Retiro there are lots of musicians singing and playing all imaginable types of music.
As you definitely will visit el Palacio Real during your stay in Madrid, I also really recommend that you visit the parks which surround the palace.
And finally, another magnificent park is el Campo de Moro which is located just behind el Palacio Real and is connected with los Jardines de Sabatini which is a cosy and quite place famous for its sculptures and little fountains and is popular  place for romantic dates!
I wish I had spent more time in Madrid to visit the other green areas of this city but you will never have enough time to do it as there are about 40 parks and of course this is on top of all the other Madrid delights – the Prado museum, the Bernabeu Stadium, the list goes on ……….
Irina