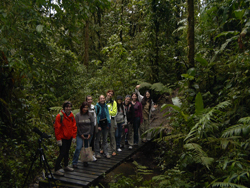 Costa Rica is one of those places that really does offer something for everyone.
Whether you like relaxing on the beach, trekking in the rainforest or soaking up history, you will find somewhere to suit you.
And what better way to see Costa Rica than to study Spanish in 1, 2 or all 3 of our fantastic locations!!
So, where can you study?
For all those beach lovers Samara Beach is the perfect location – Golden Sands, Palm trees, and warm waters just a couple of minutes from the school building.
If you want to be a little more active then this is a great place to learn something new – snorkelling, kayaking, surfing or combine your Spanish course with Yoga, to really forgot those daily stresses!
If you prefer more of a cultural experience then maybe San Joaquin de Flores is a better option for you.
Located on the edge of Heredia and not far from the country's capital San Jose, this is a great base to explore the museums, theatres and monuments of San Jose, or to visit the nearby national parks with their volcanoes and amazing scenery.
Why not take part in the school's extensive activities programme and try cooking some local dishes, or perhaps learn some new dance moves!!
And then there's Monteverde, something completely different and definitely for those nature lovers!!
Located in the clouds at around 5,000 ft in the Monteverde national park, the views are breathtaking. It's a great chance to see some of Costa Rica's natural beauty and amazing wildlife.
…and after your spanish classes why not take a trek through the canopy, zip wire through the forest or even go bungey jumping!!
We think you will see why Costa Rica really is a great location to learn Spanish, and we hope to see you soon!!