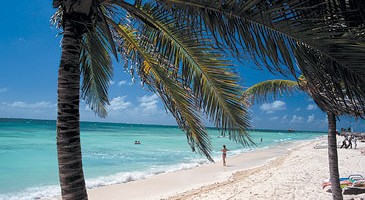 Hi guys…, I was lucky enough to visit Costa Rica a couple of years ago and want to tell you about my experiences.
The main thing that struck me about Costa Rica is the diversity of the country….the cities are not really big, but are  'proper' cities with shops, restaurants and people going about their daily life…but when you visit the countryside or the spectacular coastline you come face to face with incredible scenery and wild life. It's so unspoilt!
The first thing that I did was visit Flamingo Beach. This was a great decision because you see right away one of the prettiest beaches in Costa Rica! This is an unspoilt beach where no flats or hotels are built directly on the coast.
Flamingo Beach is located in a bay, which gives swimmers a bit of protection from the strong currents further out to sea. Flamingo Beach has gorgeous white beaches, just like in the pictures and crystal clear waters with lots of water sport possibilities – snorkelling, diving or windsurfing for example…..or any water sports you care to mention!
I do not recommend starting a windsurfing course if you have no previous experience of windsurfing, as the water can be quite rough sometimes.
However, if surfing is your thing, than Flamingo Beach is GREAT! ….and there are some other beaches nearby that the school also organizes trips to… there are for sure no better waves than in Costa Rica, and the scenery all around you makes this a really unique place to go surfing! Lots of the students at the school try it at least once and some get really hooked!
All in all, Flamingo beach met my expectations and even surpassed them.
I actually had the opportunity to visit much more of the country and want to tell you all about my travels, but that will have to wait till next time…..
Laura V,
(Holland)