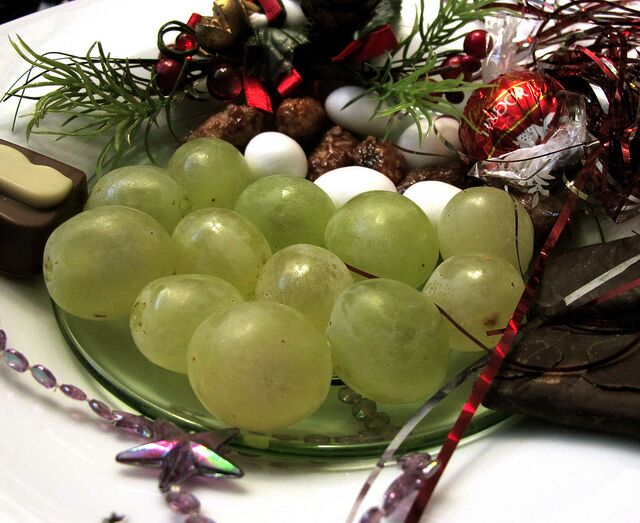 Another year has flown by and we are getting ready to celebrate the New Year.
But how do we celebrate?
Every country and culture has its' own special way of celebrating this special night and here is what happens in Spain…..
New Year falls right in the middle of the festive period in Spain, which continues until January 6th with the arrival of the 3 kings (we will tell you about this another time).
It is generally a time spent with family and friends and the evening will start with a big meal at home or in a restaurant.
Spanish television channels show the build up to midnight live from Madrid. The Clock in Puerta del Sol plays a very important role and it's this clock that counts down to the New Year.
So, do you have your grapes ready? It is a fun and unusual tradition in Spain to eat 12 grapes at Midnight! The clock chimes 4 times to warn you to get your grapes ready and then at midnight there are 12 chimes – one for every grape!
If you manage to eat all 12 grapes it is supposed to bring you luck and prosperity for the coming year. It is surprisingly difficult to eat them so quickly and can often have hilarious results!!
The cava is flowing and everyone has a 'brindis' or toast, to bring in the new year.
Another thing – Don't forget to wear Red underwear! This is also supposed to bring you good luck!
If you last until the morning hours then the best way to round off the night is eating Chocolate and Churros. A delicious bienvenido to the New Year!!!!
¡Feliz Año Nuevo!