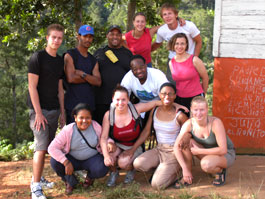 If you have always wanted to go to the Caribbean,  then the Domincan Republic is a great place to start!
..and a great place to study Spanish, with friendly locals to help you practice your new Spanish skills!
We offer Spanish courses in the North of the Island in Sosua, and in the south in Santo Domingo, the country's capital.
Both of these locations offer something different, so you can pick which one suits you best!
Santo Domingo is considered the oldest city in the New World and so has plenty of history and monuments.
The school is located in the Zona Colonial where many of the historic sites are found, close to the Ozama River.
Santo Domingo is a modern city with fantastic restaurants, and great nightlife – it's the perfect place to learn how to 'Merengue', and if you like shopping you have the choice of local colourful markets or designer boutiques.
Just outside the city are some of the islands most beautiful sandy beaches, like Playa Esmeralda and Boca Chica
–  If you need a break from the hustle of the city.
Sosua in the north of the island has a much slower pace and is great place to relax and soak up the sun under the palm trees.
The school is just a couple of minutes walk from the gorgeous sandy beaches and the school has its' own tropical gardens where students can relax between classes.
If you want more action then Sosua is the perfect place to try some watersports with kitesurfing, windsurfing and scuba diving all on offer – our school organises these courses in combination with Spanish classes!
Either location will give you an unforgettable experience, and are great locations from which to explore the rest of the island.
We hope you get the chance to come to the Dominican Republic to see for yourself!!