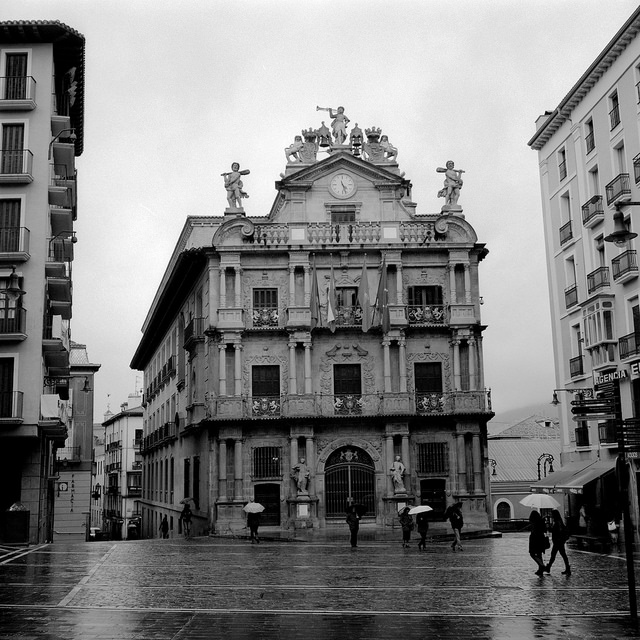 Our students Ad and Jose from the Netherlands attended a course in Pamplona.
…" We have had a very good time on the course in Pamplona.
We are very pleased with the way of teaching and teachers Mikel and Carmen.
We are now putting the Spanish we learned into practice during our Camino de Santiago!…"
How lucky to have the chance to take part in the famous Camino de Santiago!
Of course Santiago de Compostela is famous for being the end point of this world renowned pilgrimage, and Pamplona in the north east of the country is a great place to start!
Pamplona is probably most famous for the running of the bulls during the Sant Fermin celebrations but it has a lot more to offer.
Pamplona is a university city with a vibrant atmosphere, great nightlife and fantastic food – you should try the 'pinxos' – the local version of tapas.
And if you prefer something a little more relaxed, you can visit the city's picturesque parks and charming old town.
The surrounding area is stunning with the Atlantic coast to the north and the pyrenees to the east, so it's also a great place for nature lovers to get out and about.
Horseriding, climbing, hiking and canoeing are just some of the activities to be found.
Our Spanish school in Pamplona is located in the heart of the city, in a historic building next to a scenic park.
Facilities at the school are excellent, with seven comfortable classrooms, an extensive library, auditorium, café, restaurant and wireless Internet access throughout.
If you are interested in studying in Pamplona and would like to know more then contact us!