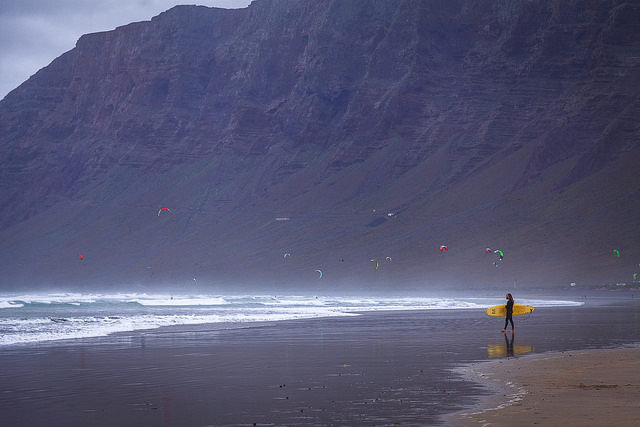 Spring is just around the corner for many of us, and thoughts turn to sun, sea and ….surf. And why not a bit of Spanish too!!!
We are lucky to be able to offer a Fantastic mix of Spanish and Sports to our students, in many of our Spanish and Latin American locations.
If you have always wanted to learn how to catch a wave, followed by a cool Cerveza, then we definitely have something for you!!
….So, what can you do? And where?
Tarifa – Located in the far south of Spain, and where the Atlantic and Mediterranean meet, it is famous for its' sun and wind, and a great location to learn Kitesurfing and Windsurfing – it has been the host to competitions in these sports thanks to the perfect conditions. Tarifa has managed to avoid mass tourism up to now and is a really great option if you want to study in a relaxed and calm environment with superb beaches as a bonus!!
San Sebastian – this is a famous spot for surfing in the North of Spain close to the French Border. San Sebastian attracts more Spanish tourism than foreign tourists and has managed to retain its' charm. You can easily fall in love with the friendly locals, mild climate and of course the typical tasty treats – Pinxos. Our school offer Spanish and surfing all year around!
Canary Islands, Lanzarote and Tenerife – These Islands are rugged and volcanic with incredible scenery and beaches and sun almost all year around.  In Tenerife you can learn Surf along with your spanish course and in Lanzarote both Surfing and Windsurfing are possible.  They are great choices if you want to really feel away from it all and do something a little different!
Our Schools in Montanita, Ecuador and Samara Beach, Costa Rica offer the best Spanish and surfing options of our Latin American Destinations.
Montanita is repeatedly host to the Surf World cup and it's a great location to snorkel and scuba dive if Surfing is not your thing. The school is right on the beach,  with its' own lush gardens, Cabaña huts and swimming pool!!
Samara Beach has beautifully clear waters which are also great for Kayaking and diving as well as surfing. The beaches are beautiful and the school is beachfront with its' own gardens. It's a great base from which to explore the national parks and volcanoes located in this part of Costa Rica!!
We hope that we have managed to 'Wet your appetite'!! If you want to know more please contact us! ……