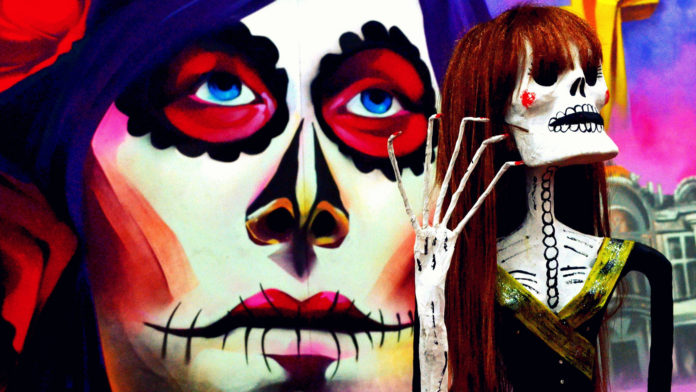 If there's one thing I would have loved to be a part of, it was the '''Dia de los muertos''.
Day of the dead!?  Doesn't sound like a fun thing to attend!
When it comes to death, everyone has their own opinion about it – for most of us it's a thing we are worried about, an event that doesn't make us feel relieved and happy and definitely not a day we are looking forward to!
Well… in most countries of the world we share this attitude – but not in my beloved Mexico!
What they think, is that the death is a thing to celebrate, which means; on the 31st of October the whole country turns into a colourful pool of people painted with skulls, covered by flowers and filled with joy!
Not because you feel relieved and happy when someone you love has died!
It's mainly a day of honouring your beloved one and making them feel like a superstar, by building an altar decorated with candles, flowers, their favourite foods and trinkets as well as a framed picture of him or her on top.
Family and friends spend time at the altar, telling stories about the deceased and sharing memories they went through with the person who died. They also pray!
They continue by writing ''calaveras'', which are satirical, short poems about funny habits or embarrassing moments they shared with the person who died.
The last part of this procedure is to visit the graves of your loved ones, clean and decorate them with ''ofrendas'', or offerings,  like orange marigolds called "Tagetes erecta" or "Flor de Muerto" ("Flower of the Dead") which are thought to attract souls of the dead, as well as ornaments the person liked.
A lot of people may celebrate this day differently, but the rule says; after putting up the altar and visiting the grave, you set out pillows and blankets in your home so the spirits of the dead can rest after their journey.
Then, finally, it's all about the food!
Preparing traditional Mexican food such as sugar skulls (''calaveras''), candied pumpkins, pan de muerto (''bread of the dead'') and ''Atole'', a typical local corn drink.
When all is said and done – it finally comes to the party and honouring the deceased one by eating fancy food, dancing, telling stories and having fun!
Next time I visit this exciting country, I´ll make sure to be a part of it!
If you're just about to visit the country and you're looking for the best place to celebrate it I can just recommend what everyone told me:
Oaxaca is supposed to be the state where you can experience this day in the most traditional and beautiful way!